Pyrotek's Decidamp® SP150 – Vibration Damping Solution for marine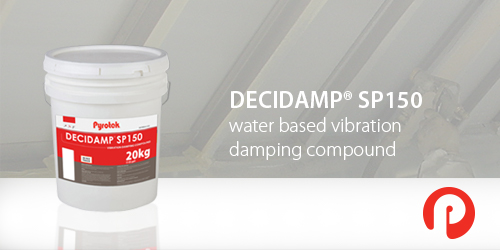 Decidamp® SP150 is a fast drying, water based viscoelastic vibration damping compound. Decidamp SP150 was developed to reduce structural-borne noise, and flexural or dynamic stress of structures. Decidamp properties effectively damp and dissipates vibrational energy which can assist greatly in the prevention of metal fatigue.
Independently tested, Decidamp SP150 has proven vibration damping and superior sound transmission performance. With an international Fire IMO approved coating of 10 mm thickness, Decidamp SP150 it highly suitable for heavy duty applications, with no slumping ensuring a smooth surface finish without cracking.
Decidamp SP150 is safe and easy to use and will adhere to most materials including metal (steel, aluminium and stainless steel), plastic and fibreglass.
Decidamp can be applied to:
• Pleasure craft, luxury
• Super yachts, mega yachts
• Military and amphibious warfare
• Work boats, tugs and trailers
• Commercial, coast guard, rescue vessels
• Offshore oil and gas platforms
For additional information please visit pyroteknc.com
Comments
LEAVE YOUR COMMENT