News

/

Dragonfire Laser Turret unveiled at DSEI
Dragonfire Laser Turret unveiled at DSEI
by ANZDD on 15-Sep-2017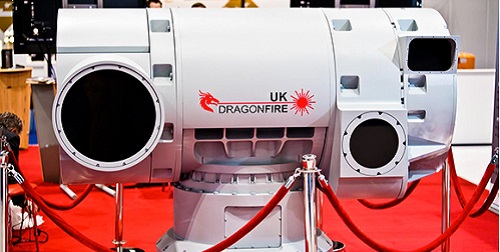 The new laser weapon demonstrator being built for the UK Ministry of Defence has been unveiled for the first time by the UK Dragonfire consortium at DSEI 2017 in London.
For the first time, the consortium has revealed the design of the turret – known as a beam director – that will be used to trial this new technology. The beam director, which will be provided by Leonardo, brings together QinetiQ's powerful laser emitter, as well as world-class electro-optics for target identification and tracking.
Known as the Laser Directed Energy Weapon (LDEW) Capability Demonstrator Programme (CDP), the effort will see UK Dragonfire trial this new sovereign capability in the maritime and land domains in 2019.
Among the uses of LDEW systems are providing very short-range air defence capability, close-in protection for naval vessels, counter-unmanned aerial vehicle (UAV), and protecting friendly forces from mortar and artillery attack.
MBDA is bringing prime weapon system delivery experience and advanced weapon system command and control (C2) and image processing capability to UK Dragonfire, in addition to co-ordinating the overall effort.
UK Dragonfire was awarded a GBP30 million contract for the LDW CDP in early 2017 after a rigorous competitive evaluation.
Source: Asian Defence Technology
Comments
LEAVE YOUR COMMENT